The Crown of Thorns
The Crown of Thorns. Plaque. Two Sizes. English or Spanish.
Item # : DC025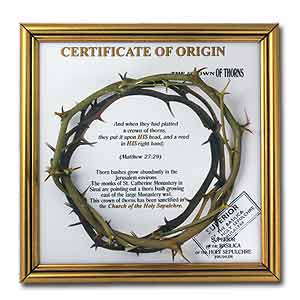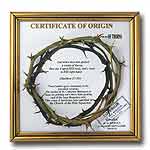 The Crown of Thorns

Mounted on a plaque for the wall or table. Made from authentic thorny bush grown in Jerusalem.

Superior of the Basilica of the Holy Sepulcher, Jerusalem

With Certificate of Origin

Available in English or Spanish.
Small: 8 x 8 inches | 20 x 20 xm

Large: 10 x 10 inches | 25 x 25 cm
According to all four gospels, Jesus was brought to the "Place of a Skull" and crucified with two thieves. To most Christians, Jesus willingly sacrificed himself as an act of perfect obedience, a sacrifice of love which pleased God
Review this product
Please log into your account to Add Your Comment.