Wild Galilee Hollyhock for the Garden
Packet of seeds to grow this Holy Land wildflower your own Biblical garden. The Hollyhock's purple flower stands out alongside the road in the Galilee and Carmel during in spring and the beginning of summer.
Item # : HE043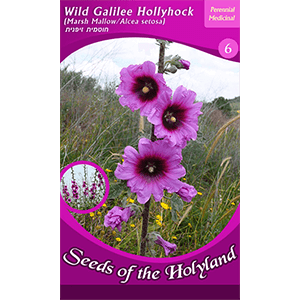 Stock Review
Elements:Seeds - In Stock
Wild Galilee Hollyhock Seeds of the Holy Land for the Garden

Each purchase of Seeds from the Holy Land supports local farmers working the Land of Israel.

The Alcea setosa, also called Bristly hollyhock, is widespread in the Mediterranean mountainous open areas. Found in the Carmel and Lower-Galilee. Alcea is a perennial plant growing to 150-200cm tall, with broad, rounded, palmate lobed leaves with 3-7 lobes and numerous pink flowers, on the erect central stem. The corolla is 15 to 20 cm in diameter.

Flowering Period: April - June

How to Grow Galilee Hollyhock:

Hollyhock seeds may be started outdoors or indoors, but do best when sown directly into the garden soil where you'd like them to grow. Hollyhocks require rich, well-drained soil. Be sure that the spot chosen for your hollyhocks will receive at least six hours of direct sunshine daily.

There are two times of year that hollyhock seeds may be planted in most gardening zones: spring and fall. The recommended planting time is fall in warmer regions. They need temperatures around 59 to 68 degrees Fahrenheit in order to germinate.

Be sure to leave the seeds on the surface of the soil, or just sprinkle them very lightly with soil or compost. Hollyhock seeds need light in order to germinate, so if you plant them too deeply, they won't sprout.

Medicinal Uses:
In folk medicine, the liquid of the plant is used to treat injuries, burns, coughs and inflammation. The flower buds are edible, cooked and raw, and are considered as medicine for illnesses in the airways.
Biblical reference:
"...he who sows sparingly will also reap sparingly, and he who sows bountifully will also reap bountifully." 2 Corinthians 9:6
Review this product
Please log into your account to Add Your Comment.