Wild Bulbous Barley from the Holy Land
Packet of seeds to grow one of the seven species of Israel at home. Wild Bulbous Barley is the actual variety of barley from the Holy Land.
Item # : HE041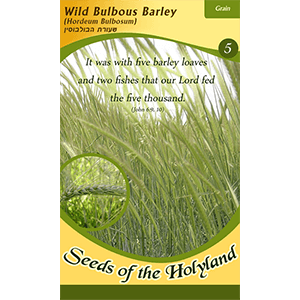 Stock Review
Elements:Seeds - In Stock
Wild Bulbous Barley Holy Land Seeds for the Garden
Each purchase of Seeds from the Holy Land supports local farmers working the Land of Israel.

Barley has always been a integral part of Holy Land agriculture. Traditionally it was used to feed livestock, as a holy offering to the Temple in Jerusalem, and as a unit of measurement. It is a hearty, high yield plant that even the poorest could grow on a modest parcel of barley to sustain their families.

Barley is one of the Five Species of Grain (wheat, barley, spelt, rye, and oats). Chometz (not allowed for consumption during the Passover holiday) and Barley is one of the seven species with which the Land was blessed (Deut. 8:8). But it was considered inferior to wheat (Revelation 6:6 ...A quart of wheat for a day's wages, and three quarts of barley for a day's wages...). Since it ripens a month or more before wheat, it was taken for the omer offerings at the Passover feast while the first grains of wheat were offered at the Feast of Pentecost.
Hordeum is a genus of annual and perennial plants in the grass family. They are native throughout the temperate regions and stand between 60–120 cm tall.

Harvest: April, May

Bible References:
"It was with five barley loaves and two fishes that our Lord fed the five thousand." John 6:9, 10
"If anyone dedicates to the LORD part of their family land, its value is to be set according to the amount of seed required for it—fifty shekels of silver to a homer of barley seed." Leviticus 27:16
"...a land with wheat and barley, vines and fig trees, pomegranates, olive oil and honey;" Deuteronomy 8:8

Additional References. Numbers 5:15, Judges 7:13. Exodus 9:31, Ruth 1:22, Ruth 2:17, Ruth 2:23, Ruth 3:2, Ruth 3:15, Ruth 3:17, 2 Samuel 14:30, 2 Samuel 17:28, 2 Samuel 21:9, 1 Kings 4:28, 2 Kings 4:42, 2 Kings 7:1, 2 Kings 7:16, 2 Kings 7:18, 2 Chronicles 2:10, 2 Chronicles 2:15, 2 Chronicles 27:5, Job 31:40, Isaiah 28:25 Matthew 6:28-29, 1 Chronicles 11:13
Review this product
Please log into your account to Add Your Comment.