Tabgha Terra Santa Collection Holy Land Elements
Galilee Olive Oil, Bethlehem Soil, Jordan River Water. Holy Land Elements Collection in Tabgha decorative box.
Item # : HE014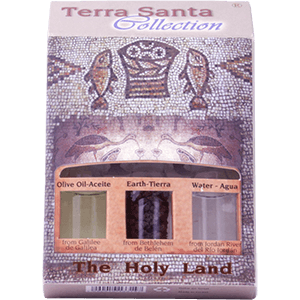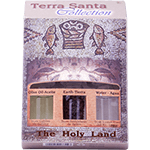 Stock Review
Tabgha Terra Santa Collection Holy Land Elements Holy a piece of the Holy Land in your hand! Commemorative box features the mosaic of Tabgha at Capernaum in the Galilee. Terra Santa (Holy Land) Collection includes:
1 bottle of Olive Oil from the Galilee
1 bottle of Holy Soil from Bethlehem
1 bottle of Water from Jordan River

Tabgha is the traditional site of the Miracle of the Multiplication of the Loaves and the Fishes. On this site is a church with a mosaic commemorating this miracle of Yeshua.
"But Jesus said unto them, They need not depart; give ye them to eat. And they saty unto him, We have here but five loaves, and two fishes. He said, Bring them hither to me. And he commanded the multitude to sit down on the grass, and took the five loaves, and the two fishes, and looking up to heaven, he blessed, and brake, and gave the loaves to his disciples, and the disciples to the multitude. And they did all eat, and were filled: and they took up of the fragments that remained twelve baskets full. And they that had eaten were about five thousand men, beside women and children." (Matthew 14:16-21)
Review this product
Please log into your account to Add Your Comment.