SAVE 15%! Biblical Christmas Incense plus Censer and Charcoal
Comes with 3 packets of pure Frankincense plus all the materials to burn the incense. A very special way way to celebrate the birth, life and death of Yeshua at any time. Each packet contains 75 oz | 50 g
Item # : HE053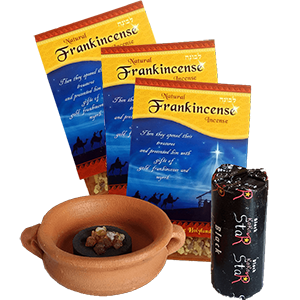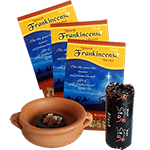 Stock Review
Elements:Incense - Out Of Stock
Biblical Christmas Incense plus Censer and Charcoal
Biblical Frankincense Pure Incense included in the set.

Use as Christmas to heighten the expeience of the celebration of the coming of the Messiah. Can also be used all year long to give you home a Biblical aroma.

"On coming to the house, they saw the child with his mother Mary, and they bowed down and worshiped him. Then they opened their treasures and presented him with gifts of gold, frankincense and myrrh." Matthew 2:11

Frankincense was purposely chosen as a gift from the Magi to the newborn Messiah. Its special spiritual symbolism foreshadows the coming fate of Yeshua. Frankincense was a symbol of his priestly role and when burned represents prayers rising to heaven.

How to use burn the incsense with the censer and charcoal:

Place some sand, gravel or even kitty litter in the bottom of the censer.

Holding the charcoal with two fingers on one side carefully light the opposite edge of the charcoal puck with a grill/stove lighter or fireplace matches.

When it starts to sparkle a bit, or make a slight crackling, hissing sound, then ththe coal is igniting.

Place your coal on the sand, gavel or litter and give it at least one minute to sit. Wait until you see a fine layer of white ash covering the puck, then it is well-lit and the melting resins will not smother it and put it out.

Take a small piece of frankincense and/or myrrh, ( the size of small pea or a lentil), and place it in the middle of the coal. It will shortly release its fragrance and smoke, and there you have it. Pure, natural incense.

Never leave lit charcoal unattended, or close to flammable materials.

As soon as you smell the warm, rich, sweet-woody scent of frankincense and myrrh it is easy to understand how special these plants truly are. As the spiritual scents waft over your, you can feel relaxation and opening for both the body and mind.

Each packet containc 75 oz | 50 g
Review this product
Please log into your account to Add Your Comment.