Nazareth Holy Land Elements Gift Set
Nazareth Holy Land Elements Gift Set: Jordan River Water, Galilee Olive Oil & Soil from Jerusalem
Item # : HE001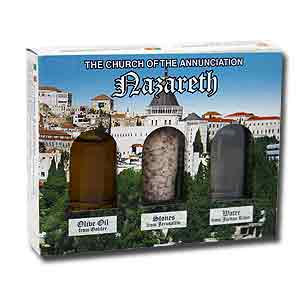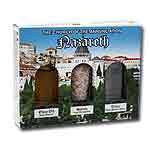 Stock Review
Elements:Galilee Olive Oil - Out Of Stock
Holy Land Elements Gift Set

Featuring Nazareth, The Church of the Annunciation

Includes:

1 bottle of Olive Oil from the Galilee
1 bottle of Holy Soil from Jerusalem
1 bottle of Water from Jordan River


"And he came and dwelt in a city called Nazareth,
that it might be fulfilled which was spoken by the prophets,
"He shall be called a Nazarene." ( Matthew 2:23 )

According to the Gospel of Luke, Nazareth was the home of Joseph and Mary and the site of the Annunciation (when Mary was told by the Angel Gabriel that she would have Jesus as her son); in the Gospel of Matthew, Joseph and Mary resettle in Nazareth after fleeing to Egypt from their home in Bethlehem. Nazareth is also where Jesus spent his childhood.
Review this product
Please log into your account to Add Your Comment.