Gethshemane Holy Land Elements Gift Set.
Gethshemane Holy Land Elements Gift Set: Jordan River Water, Olive Oil & Soil from Jerusalem
Item # : HE003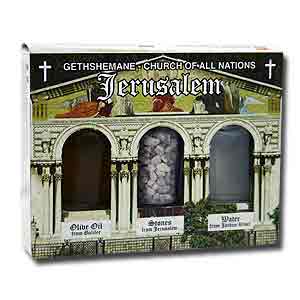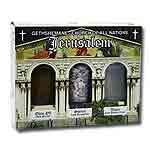 Stock Review
Elements:Galilee Olive Oil - In Stock
Gethshemane Holy Land Elements Gift Set


Featuring The Sanctuary of Gethshemane

Includes:

1 bottle of Olive Oil from the Galilee
1 bottle of Holy Soil from Jerusalem
1 bottle of Holy Water from the Jordan River


Gethshemane from GAT+SHEMANIM, means (Olive) "Oil Press". It is the name of a natural grotto next to the "Tomb of Mary" and her Assumption. Jesus often visited the grotto and it was here that He was betrayed and arrested. In time, however, the entire area at the foot of the Mt. of Olives was called GETHSEMANE.

The Garden of Olives is located above and to the right of the Grotto of Gethsemane ( to the left of the Basillica, facing the facade ) and enclosed by a fence. Here there are eight olive trees held by tradition to be the silent witnesses of Jesus´ prayer and suffering the evening before His crucifixion.
Review this product
Please log into your account to Add Your Comment.