SAVE 15% Garden Set from the Holy Land
8 seed packets of Holy Land plants to start your very own Biblical garden! Save 15% on complete set over individual purchase.
Item # : HE048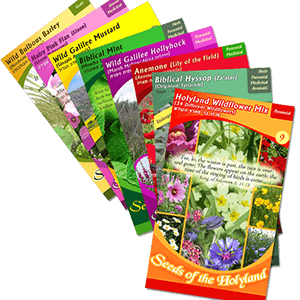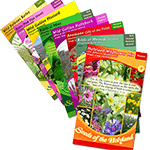 Stock Review
Elements:Seeds - In Stock
Complete Set of Seeds of the Holy Land for your Garden

Each purchase of Seeds from the Holy Land supports local farmers working the Land of Israel.

Each variety of plant contained in the packet are the authentic plants that grow wild in the Holy Land. You will experience the scents, colors and even flavors of the Holy Land right from your very own garden.

Included in this set are one packet each of:
Wild Bulbous Barley Seeds
Lily of the Fields Seeds
Hairy Pink Flax Seeds
Biblical Hyssop Seeds
Wild Galilee Hollyhock Seeds
Biblical Mint Seeds
Wild Galilee Mustard Seeds
Holyland Wildflower Mix Seeds

Instructions for growing are provided on individual packets.

Vegetation sprouted all over the earth, including seed-bearing plants and fruit trees, each kind containing its own seed. And God saw that it was good.Genesis 1:12
Review this product
Please log into your account to Add Your Comment.