Biblical Mint from the Holy Land
Packet of seeds to grow this ancient Holy Land herb your own Biblical garden. Biblical Mint makes a wonderful zesty tea and is a household commodity in Israel.
Item # : HE045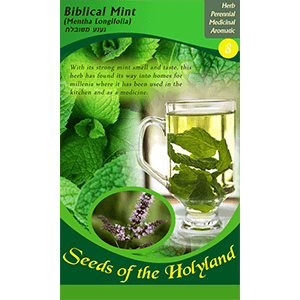 Stock Review
Elements:Seeds - In Stock
Biblical Mint Seeds of the Holy Land for the Garden

Each purchase of Seeds from the Holy Land supports local farmers working the Land of Israel.
Mentha longifolia or wild mint is a fast-growing, perennial herb that has creeps along an underground rootstock. It can reach up to 1.5 m high in favorable conditions, but is usually between 0.5-1 m high and even shorter in dry conditions. Strongly aromatic, bees and butterflies are attracted to the wild mint when in flower. Biblical Mint makes a wonderful zesty tea and is a household commodity in Israel. It is delicious in salads and vegetable dishes.

Flowering Period: November through April

How to Grow Biblical Mint:

Mentha longifolia is easy to grow, with the same requirements as most mints. Mints are fast growers but seem to be always on the move. With underground runners, they disappear and pop-up wherever they find a suitable spot. Heavy feeders and water lovers, mints grow in semi-shade and full sun. They do well in pots where they are contained, but need to be re-potted every year or two in new compost-rich soil.

Medicinal Uses:

Wild mint is a popular traditional medicine. It is mainly used for respiratory ailments but many other uses have also been recorded. It is mostly the leaves that are used, usually to make a tea that is drunk for coughs, colds, stomach cramps, asthma, flatulence, indigestion and headaches. Externally, wild mint has been used to treat wounds and swollen glands. With its strong smell rubbed onto the body and bedding, is used to keep mosquitoes away.

This strain of mint grows wild throughout Israel and is undoubtedly the same mint as was mentioned in the Bible.

Bible reference: "You give a tenth of your spices--mint, dill and cumin. But you have neglected the more important matters of the law--justice, mercy and faithfulness." Matthew 23:23.
Review this product
Please log into your account to Add Your Comment.