Jerusalem Stones and Holy Jordan Water Necklace
Glass pendant filled with Jerusalem Stones and Jordan River Water on leather cord. Includes Certificate of Authenticity.
Item # : HE025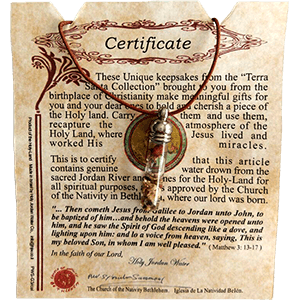 Stock Review
Elements:Jordan River Water - Out Of Stock
Jerusalem Stones and Holy Jordan Water Necklace

Product of the Holy Land

Wear spirit of the Holy Land around your neck with this necklace filled with stone from Jerusalem and River water from the Jordan. The necklace is a clear glass pendant with the Holy Land Elements on a leather cord.

Stones from the Holy City of Jerusalem naturally carry millennia of history. From ancient Israelites to Yeshua and his Disciples to today's faithful pilgrims, the stones of Jerusalem are just infused with spirituality. Jordan River Water is only of the world's most holy waterways. Thousands have taken the lead of Jesus and been baptized in her waters.
Review this product
Please log into your account to Add Your Comment.