Bible Treasures Temple Anointing Oil
Temple Anointing Oil by Bible Treasures. Made exclusively in the Galilee, the home of Jesus' Ministry. 8 ml | 0.27 fl.oz.
Item # : AO031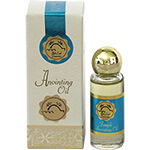 Stock Review
Size:.25 oz - Out Of Stock
Temple Anointing Oil by Bible Treasures. 'Temple' Anointing Oil with Myrrh, Cinnamon, Calamus (Sweet Cane) and Cassia,by Bible Treasures . Made in the Galilee region of the Holy Land. Therefore God, thy God, hath anointed thee with the oil of gladness (Psalm 45:7). Healing Anointing Oil The Bible is literally full of references to fragrances, whether they are the special oil used for anointing priests and kings, the incense that was burned in the tabernacle and temple, or the perfumes that were used by the people of the Bible. Here are some of the fragrances that are mentioned in the lives of the Israelites: Nard and saffron, calamus and cinnamon, frankincense, myrrh, aloes, and the finest spices(Song of Solomon 4:14). As per the instructions that were received from God four fragrant ingredients are added to everyone of our bottles containing extra virgin olive oil. These ingredients are myrrh, cinnamon, sweet cane (calamus) and cassia. This ingredients are added in order to compound the oil.
Review this product
Please log into your account to Add Your Comment.