Roll-On Light of Jerusalem Anointing Oil.
Light of Jerusalem Anointing Oil by Ein Gedi in 10 ml / 0.34 fl.oz Roll-On
Item # : AO045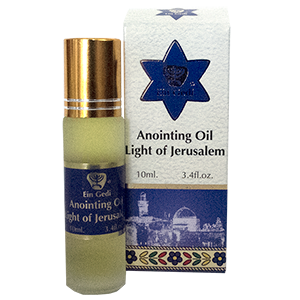 Stock Review
Scent:Light of Jerusalem Size:.33 oz - In Stock
Roll-On Light of Jerusalem Anointing Oil. In temple days, sweet incense containing Frankincense was kept on the Inner Altar of the Tabernacle & burned morning and evening. Myrrh, used as a burial spice and in purification rites, was a primary ingredient of the Holy Anointing Oil. It speaks of suffering and death, but our total deliverance in the atoning work of Messiah. Is 53:5 "He was wounded for our transgression, He was bruised for our iniquities; ....and by His stripes we are healed." This anointing oil is made in Israel -- the Land of the Bible by local perfumers, using natural Galilee and Jerusalem virgin olive oils and scented with flowers and herb essences mentioned in the bible and characteristic to the Holy Land. .34 fl oz | 10 ml Roll-On
Review this product
Please log into your account to Add Your Comment.