Roll-On King Solomon Anointing Oil.
King Solomon Anoniting Oil by Ein Gedi. 10 ml / 0.34 fl.oz in Roll - On
Item # : AO043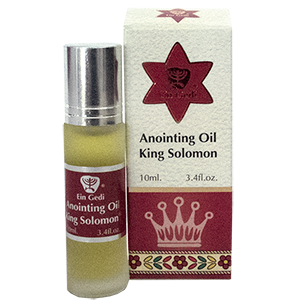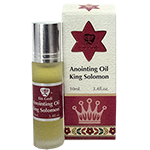 Stock Review
Scent: Size:.33 oz - In Stock
Roll-On King Solomon Anointing Oil. The King Solomon symbolizes love, beauty and healing to Christians, Messianics and Jews. "King Solomon" is found in the Song of Solomon 1:3 , "Your oils have a pleasing fragrance, Your name is like purified oil; Therefore the maidens love you. Both Jews and Christians have suggested that the Song of Songs is an allegory, a picture of either God's love for his people Israel or of Christ's love for the Church, which elsewhere in the Bible is described as his "bride". Original anointing oils made of virgin olive oil from Galilee and Jerusalem, scented with biblical essences and flower extracts from the land of the Bible. 10 ml / 0.34 fl.oz in Roll-On
Review this product
Please log into your account to Add Your Comment.