Queen Esther Anointing Oil
This anointing oil is a beautiful and exotic blend of perfume scents including myrrh, frankincense and other botanical scents as stated in Esther 12:. By Ein Gedi, 7.5 ml | 0.25 fl. oz.
Item # : AO002E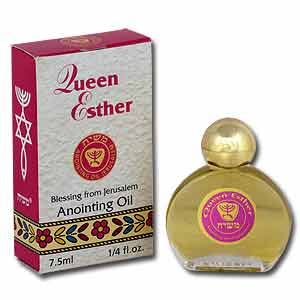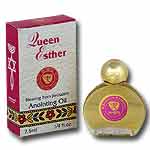 Stock Review
Queen Esther Anointing Oil by Ein Gedi

This anointing oil from Israel is a beautiful and exotic blend of prefume scents including Rose, Sandalwood, Lily Of The Valley, Pomegranate, Honey, Coriander, Myrtle, Myrrh, Frankincense, and Spikenard on a base of extra virgin olive oil from the Galilee.

This blends forms something similar to what Queen Esther would have used before her appearance before the king as stated in Esther 2:12, "Before a young woman's turn came to go in to King Xerxes, she had to complete twelve months of beauty treatments prescribed for the women, six months with oil of myrrh and six with perfumes and cosmetics." It was this careful preparation what helped to win Esther favor and put her in a position to save the Jewish people.

7.5 ml | 0.25 fl. oz.
Review this product
Please log into your account to Add Your Comment.