Light of Jerusalem Anointing Oil
Light of Jerusalem Anointing Oil by Ein Gedi, 7.5 ml | 0.25 fl. oz.
Item # : AO002J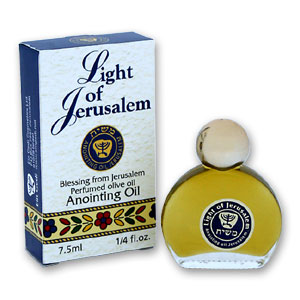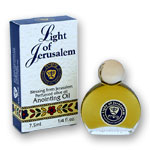 Stock Review
Scent:Light of Jerusalem - In Stock
Ein Gedi Light of Jerusalem Anointing Oil
This Holy Land anointing oil is based on the Biblical on the sacred oil formula found in Exodus 30. It is scented with myrrh, frankincense, cinnamon, cassia, and flower extracts from the Holy Land and created on a foundation of pure Galilee Olive Oil.
"Then the Lord said to Moses, 23 "Take the following fine spices: 500 shekels[a] of liquid myrrh, half as much (that is, 250 shekels) of fragrant cinnamon, 250 shekels[b] of fragrant calamus, 24 500 shekels of cassia—all according to the sanctuary shekel—and a hin[c] of olive oil. 25 Make these into a sacred anointing oil, a fragrant blend, the work of a perfumer. It will be the sacred anointing oil." Exodus 30:22-25
7.5 ml | 0.25 fl. oz.
Review this product
Please log into your account to Add Your Comment.