Blessing from Jerusalem Elijah Anointing Oil .
" Elijah " Anointing Oil by Ein Gedi , .4 fl oz | 12 ml
Item # : AO013E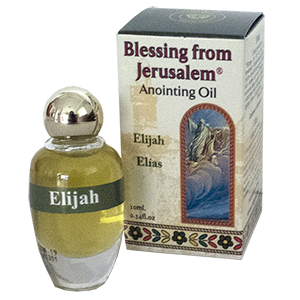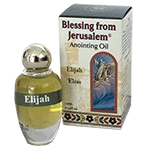 Stock Review
Anointing Oil "Elijah". The Bible is literally full of references to fragrances, whether special oil used for anointing priests and kings, the incense that was burned in the tabernacle and temple, or the perfumes that were used by the people of the Bible. Here are some of the fragrances mentioned in the lives of the Israelites: Nard and saffron, calamus and cinnamon, frankincense, myrrh, aloes, and the finest spices (Song of Solomon 4:14). OF INTEREST… The holy anointing oil described in Exodus: 30:22-25. The oil was used to anoint the vessels of the Tabernacle: 30:26, and the High Priest, and is traditionally regarded as the oil used by prophets to anoint Saul, David, and other kings of ancient Israel. The title Messiah means literally covered in oil, "Anointed."

When they had crossed over, Elijah said to Elisha, "Ask what I shall do for you before I am taken from you." And Elisha said, "Please, let a double portion of your spirit be upon me." 2 Kings 2:9
.4 fl oz | 12 ml
Review this product
Please log into your account to Add Your Comment.