Anointing Oil Balm
Messiah. Anointing Oil Balm. 5 ml, 0.17 oz. Available in 3 scents.
Item # : AO009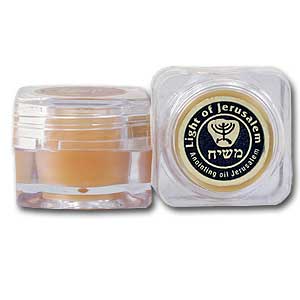 Stock Review
Scent:Rose of Sharon - In Stock
Scent:Light of Jerusalem - In Stock
Scent:Queen Esther - In Stock
Anointing Oil Balm


Inspirational anointing oil balm is the perfect solution for when you need to take anointing oil with you. It is the same anointing oil biblical scents on an olive oil base just like other anointing oils, but without the risk of spillage or breakage.

5 ml e 0.17 oz
Available in 3 scents:

Light of Jerusalem
Rose of Sharon
Queen Esther

"Is anyone among you sick? Let him call for the elders of the church, and let them pray over him, anointing him with oil in the name of the Lord. And the prayer of faith will save the sick, and the Lord will raise him up. And if he has committed sins, he will be forgiven." (James 5:14- 15)
Review this product
Please log into your account to Add Your Comment.