Frankincense Anointing Oil
Galilee olive oil forms the base of this Holy Land anointing oil scented with the aromatic essence of Frankincense, one of the consecrated incenses of the Temple in Jerusalem. 8 ml, 0.27 fl.oz.
Item # : AO011F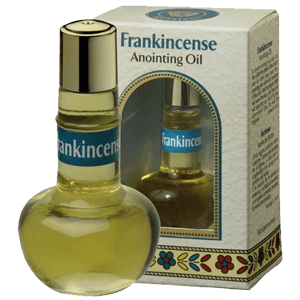 Stock Review
Scent:Frankincense - Out Of Stock
Frankincense Anointing Oil

Anointing oil made of virgin olive oil from Jerusalem and the Galilee, scented with essence of Frankincense. Frankincense was one of the consecrated incenses (Ha-Ketoret) described in the Hebrew Bible and an important component of the services in the Temple in Jerusalem.

Size: 8 ml e 0.27 fl.oz.

"Is anyone among you sick? Let him call for the elders of the church, and let them pray over him, anointing him with oil in the name of the Lord. And the prayer of faith will save the sick, and the Lord will raise him up. And if he has committed sins, he will be forgiven." (James 5:14- 15)
Review this product
Please log into your account to Add Your Comment.