White Gold-Filled Pomegranate Earrings
Pomegranate Earrings, White Gold-filled
Item # : ER420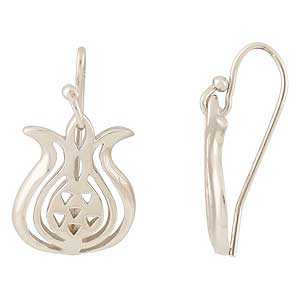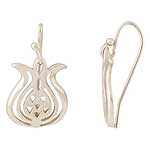 White Gold-Filled Pomegranate Earrings
by Israeli jewelry designer Marina
As a symbol of fruitfulness and wisdom, the image of the pomegranate appeared on the ancient coins of the Kingdom and Judah. In traditional Judaism the pomegranate symbolizes righteousness because it is thought that is contains 613 seeds, one for each mitzvoth. There is an abundance of reference to the pomegranate in the Bible. Images of the Pomegranate were found on the columns of Solomon's Temple and were woven into the High Priest's robes. Additionally, the pomegranate is one of the Seven Species of Israel. Recently this ancient symbol has had a revival in modern spiritual culture. The image of the pomegranate as a symbol of wisdom, fruitfulness and righteousness and its aesthetic beauty makes it very appealing to translate into inspirational jewelry. Just about anything that features the pomegranate is considered stylish and modern.

These Pomegranate earrings are a chic stylistic design with simple lines and created in white gold-fill.
Want the matching pendant? Get it here!
Approximate dimensions: 3/4 inch x 1/2 inch | 2 cm x 1.3 cm
Review this product
Please log into your account to Add Your Comment.