Sterling Silver Grafted In Dangling Earrings
Grafted In Earrings. Messianic Seal. Sterling Silver.
Item # : ER017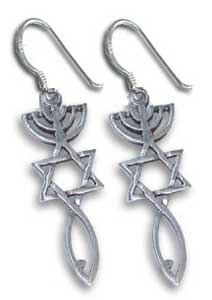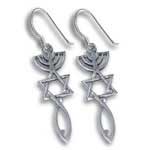 Stock Review
Earring Style:Dangling Size:Small - In Stock
Earring Style:Dangling Size:Large - In Stock
Sterling Silver Grafted In Earrings

Height - Small 4/3 inch / 2.3 cm Large 1 inch / 2.5 cm
Dangling earrings with an open hook.
Many of the symbols associated with the Messianic movement incorporate traditional Jewish symbols and traditional Christian symbols. Messianic symbols include the Grafted-In, or messianic seal, which is composed of the Fish, Star of David and Menorah blended together in one cohesive adornment. Another symbol is the Star of David with a cross in the middle – called the Messianic Star. The Messianic movement is a Biblically-based movement of people who believe Yeshua (Jesus) is the Messiah of Israel. Messianics include the Biblical feasts such as Passover, Sukkot, and Shavuot in their values and celebrate them just as Jesus did.
One of the earliest known Christian symbols this combined Menorah, Star of David, and Fish, represent the unity and common roots of Judaism and Christianity. It was first discovered in a small assambly room on Mount Zion; 3 rd Century A.D.

In Romans Paul speaks about the natural olive tree of Israel, and the grafting in of gentile belivers (the wild olive) into the olive tree.
Review this product
Please log into your account to Add Your Comment.