Yellow Gold Filled Messianic Grafted In Earrings
Messianic Grafted In Earrings, Yellow Gold-filled
Item # : ER418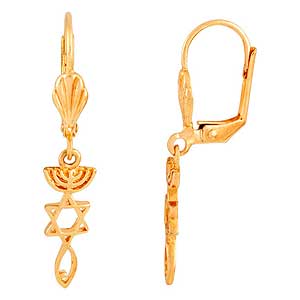 Stock Review
Earring Style:Dangling Size: - In Stock
Gold Filled Messianic Grafted In Earrings
by Israeli Jewelry Designer Marina
This simple and classic pendant of the Messianic Seal of Jerusalem also known as the Grafted In symbol, is perfect for all those who are Messianic or who follow a Hebraic roots to their faith. With the combination of three favorite symbols, this Messianic pendant is expressive and meaningful to all who wear it.
These Grafted In Earrings are gold filled, simple yet powerful in design and perfect for women and men of all ages.
Want the matching pendant? Get it here!
Approximate dimensions: 3/4 inch x 1/4 inch | 2 cm x .5 cm
Review this product
Please log into your account to Add Your Comment.