Grafted In 14k Gold Dangling Earrings
Messianic Grafted In Earrings. 14kt Gold.
Item # : ER005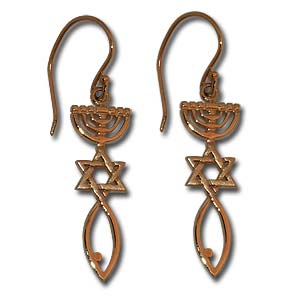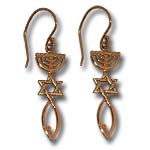 Messainic Grafted In Gold Earrings


Dangling 14Kt gold earrings featuring the core symbol repersenting the Messianic Jewish movement - the Grafted In or as it si known, the Messianic Seal.

Height: 1 inch / 2.5 cm

It is one of the earliest known Christian symbols. It combines the Menorah, Star of David, and Fish to represent the unity and common roots of Judaism and Christianity. It was first discovered in a small assambly room on Mount Zion; 3 rd Century A.D.
In Romans, Paul speaks about the natural olive tree of Israel, and the grafting in of gentile believers (the wild olive) into the olive tree.
Review this product
Please log into your account to Add Your Comment.