Gold-filled Hoshen Earrings
Hoshen Earrings, Gold-filled
Item # : ER415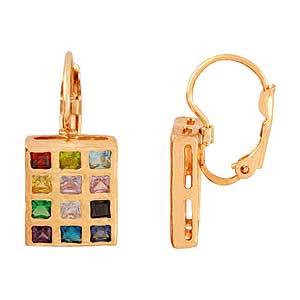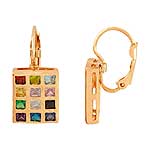 Stock Review
Earring Style:Studs Size: - Out Of Stock
Gold-filled Hoshen Earrings
by Israeli jewelry designer Marina
The Hoshen is also called the Priestly Breastplate and was first described in Exodus 39:8-14. The Hoshen stones are 12 stones mounted in three horizontal lines of four stones each. Each stone represents on of the tribes of Israel. In the Bible G-d commanded the Israelites that the Hoshen stones be embroidered on to fine linen for the High Priest. This Priestly Breastplate has recently been revived as a form of jewelry. Wearing Hoshen jewelry imparts the idea of being one of G-d's children, cared for, protected and guided by G-d, just as the Twelve Tribes.
These Breastplate Earrings are made of yellow gold-fill and 12 beautiful colored crystals.
Want the matching pendant? Get it here!
Approximate dimensions: 1/2 inch x 1/4 inch | 1.3 cm x .5 cm
Review this product
Please log into your account to Add Your Comment.