Shofar Hanging Bracelet Charm. 25% OFF*
Marina Jewelry Bracelet Charm, Rams Horn Shofar Charm, Sterling Silver. Fits Pandora Bracelets! *Regular Price $28.50
Item # : BR100AK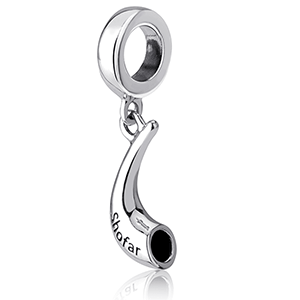 Stock Review
Marina Jewelry Bracelet Charm, Rams Horn Shofar Hanging Charm, Sterling Silver

The shofar is a natural holy instrument which can be referenced throughout the Bible. The first shofar was made from the horns of the Ram Abraham killed during the Binding of Isaac. The shofar has been used for millennia to call the faithful to prayer. The shofar makes a beautiful jewelry piece because it reminds us of the strong Word of God.. that is is important that we shout it from the mountain top and sound the horn.

The bracelet charm can be used with all major charm bracelet brands. It is crafted from sterling silver in the highest quality. The charm is made in that Holy Land at Marina Jewelry, Haifa.
Review this product
Please log into your account to Add Your Comment.