Shema Yisrael Bead Bracelet Charm, Sterling Silver
Marina Jewelry Bracelet Charm, Shema Yisrael Bead Charm. Sterling Silver. Fits Pandora Bracelets!
Item # : BR100Z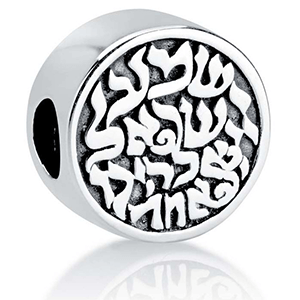 Marina Jewelry Sterling Silver Shema Yisrael Bead Bracelet Charm

The Shema Yisrael is the Judaic declaration of faith from Deuteronomy 6:4-9. It begins, "Hear, O Israel, the Eternal is our God, the Eternal is One". It is the more important prayer in Judaism because it declairs our recognition that God is One.
This beautifully crafted 925 Sterling Silver bracelet charm is a disk with the Shema Yisrael written in stylized Hebrew: שמע ישראל " אלהינו " אחד.
Can be worn alone on the bracelet or with any combination of
ot
her Marina Bracelet Charms -- or even on a necklace chain.
Review this product
Please log into your account to Add Your Comment.