Red Enamel Pomegranate Bead Bracelet Charm. 25% OFF*
Marina Jewelry Bracelet Charm, Pomegranate Bead Charm. Sterling Silver and Red Enamel. Fits Pandora Bracelets! *Regular Price $40.00
Item # : BR100Q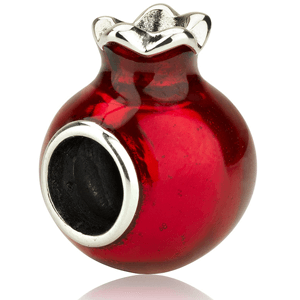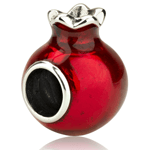 Stock Review
Materials: - Out Of Stock
Marina Jewelry Sterling Silver Pomegranate Bead Bracelet Charm with Red Enamel
The pomegranate was one of the fruits the scouts brought to Moses to demonstrate the fertility of the "promised land". It is a beautiful fruit that is just as beautiful when represented in jewelry.

This Sterling Silver bracelet charm is in the same of a pomegranate bead. The chain from the bracelet passes through the center of the pomegranate. The bright red color is from red enamel making this charm quite striking.

Can be worn alone on the bracelet or with any combination of other Marina Bracelet Charms -- or even on a necklace chain.
Review this product
Please log into your account to Add Your Comment.