Lion of Judah Onyx Bead Charm, Sterling Silver. 30% OFF*
Marina Jewelry Bracelet Charm, Onxy and Sterling Silver. Fits Pandora Bracelets! *Regular Price $46.50
Item # : BR100AB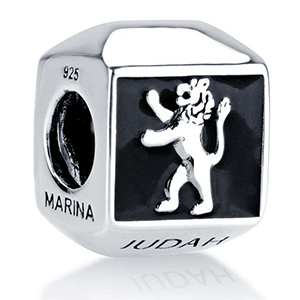 Stock Review
Lion of Judah Onxy Bead Bracelet Charm, Sterling Silver

The Lion of Judah is the symbol for the Hebraic tribe of Judah, whose patriarch is Judah, the fourth son of Jacob. In Genesis 49: Jacob gives a blessing to Judah in which he metaphorically refers to the later as a lion, thus creating the association.
Additionally there is a Messianic and Christian association to the Lion on Judah in Revelation 5:5 in which Yeshua is called the Lion of Judah.
This bracelet bead charm is created with a black onxy background. Onyx is a precious stone that once was used to adorn the breast-plate of the high priest and the shoulders of the ephod.

The charm is designed and crafted by the Marina Jewelry studio of Haifa, Israel. It can be worn alone on the bracelet or with any combination of other Marina Bracelet Charms -- or even on a necklace chain.
Review this product
Please log into your account to Add Your Comment.