Israel Flag Hanging Bracelet Charm, Sterling Silver. 25% OFF*
Marina Jewelry Bracelet Charm, Sterlng Silver Israel Flag Hanging Charm. Fits Pandora Bracelets! * Regular Price $35.50
Item # : BR100G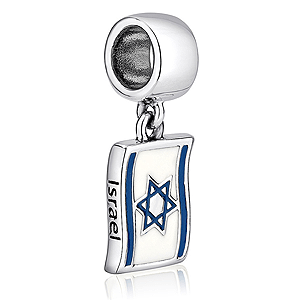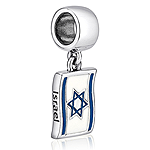 Stock Review
Materials: - Out Of Stock
Marina Jewelry Sterling Silver Israel Flag Hanging Bracelet Charm
This bracelet charm is made from 925 Sterling Silver with blue and white enamel creating the Israel flag. The finishes are excellent, the silver is cast beautifully and the enamel is vivid in color and applied with expertise. Can be worn alone on the bracelet or with any combination of other Marina Bracelet Charms -- or even on a necklace chain.

The Israel Flag is blue and white, the traditional colors of the tallit or prayer shawl. The flag features a blue stripe at the top and bottom representing the tallit. In the center is a blue Star of David, chosen in honor of the courage of the Jewish fighters in the Warsaw Ghetto during the Holocaust. They flew a flag with the Star of David over the Ghetto until they were taken.
Review this product
Please log into your account to Add Your Comment.