Israel Flag Bead Bracelet Charm, Sterling Silver. 30% OFF*
Marina Jewelry Bracelet Charm, Sterling Silver with Blue and White Enamel. Fits Pandora Bracelets! *Regular Price $47.50
Item # : BR100AD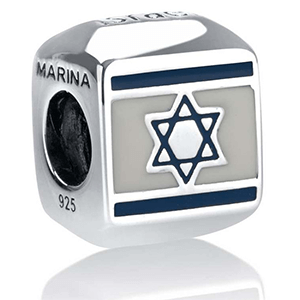 Stock Review
Marina Jewelry Sterling Silver Israel Flag Bead Bracelet Charm

The Israel Flag is vivid blue and stark white. It was designed after the traditional prayer shawl worn during prayer. The Israel Flag is a symbol of the strength and tenacity of the country and her people and the enduring spirit of the ancient Judaic nation.

The bracelet charm is made from sterling silver with blue and white enamels creating the flag. The should be worn by anyone who loves and supports Israel.

Marina is an Israeli jewelry designed from Haifa. Her finely crafted jewelry is is heart and soul.
Review this product
Please log into your account to Add Your Comment.