Kiddush Cup Hanging Bracelet Charm, Sterling Silver
Marina Jewelry Bracelet Charm, Kiddush Cup Hanging Charm, Sterling Silver. Fits Pandora Bracelets!
Item # : BR100W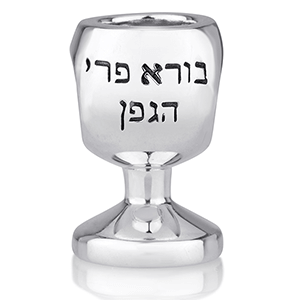 Stock Review
Marina Jewelry Sterling Silver Kiddush Cup Hanging Bracelet Charm

In Hebrew the word Kiddush mean sanctification. A kiddush cup is used at the beginning of Shabbat and Holidays for the blessing of the wine to sanctify the day. Wearing a kiddush cup design would remind us of the the sanctity of the Sabbath and of God's holidays as given in the Torah.

This bracelet charm has clean lines and a deleicate appearance. It is made of the finest quality sterling silver. Crafted by Marina Jewelry in Haifa, the Holy Land.
Review this product
Please log into your account to Add Your Comment.