Hoshen Stone 2 Sided Fish Keychain
Fun keychain in the shape of a fish. This fish is decorated with the 12 Hoshen Stone, one for each Tribe of Israel.
Item # : KY334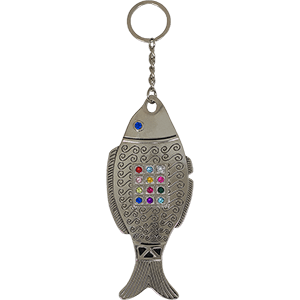 Stock Review
Color:Silver Shape:Fish - Out Of Stock
Hoshen Stone Fish Keychain

This fun keychain is perfect for those who love to collect keychains! Shaped like a fish, the lovely details on this key chain is excellent and the fish is two-sided so you have the same detail no matter how you hold it. The fish is decorated with the Hoshen stones aka the Priestly Breastplate. The fish has a blue stone for the eye and a mischievous little smile. This keychain is made in a pewter-color.
Review this product
Please log into your account to Add Your Comment.