Za'atar (Hyssop) 100% Natural Herb Seasoning
Za'atar Natural Herb Seasoning. Hyssop. Green Choice. 50 g / 1.75 oz.
Item # : FD0323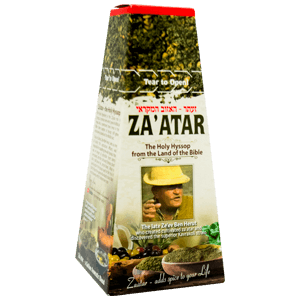 Stock Review
Ingredient:Spices Size:1.75 oz - Out Of Stock
Hyssop Za'atar Natural Herb Seasoning

100% Natural Herb Seasoning by Green Choice.

Product of Israel - grown and produced on Kibbutz Sde Eliyahu in the Beit Shean valley near the Sea of Galilee.

Goes wonderfully with salads, soups, white cheeses, eggs, pizza, meat, fish, and pastries.

Ingredients: Sesamie, hyssop, parsley, sumac, olive oil, salt, citric acid.

Kosher Parve under Rabbi supervision.

No Preservatives
No Artificial Coloring
Natural Ingredients Only

50 g e. 1.75 oz.


From Green Choice Spices: "Green Choice is the natural way of life, that enables you to enjoy the wonderful tastes and aroma of the best herbs and spices that the Earth has to offer. We are committed to bringing you the best quality of herbs and spices, straight from our fields to your kitchen."
Review this product
Please log into your account to Add Your Comment.