Izrael Seasoning for Rice: Rich Mix Galilee
Seasoning for Rice: Rich Mix Galilee by Izrael Za'atar. ​​​​​​​100% Natural Herb Seasoning for rice with with vegetables, herbs and spices grown in the Arava, the Galilee, Mt. Hermon, Mt. Tabor and the Golan Heights. 4.23 oz | 120 g
Item # : FD062R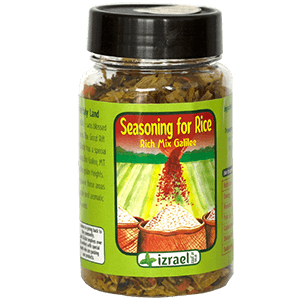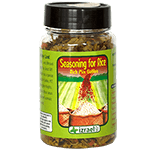 Stock Review
Size:4.23 oz - Out Of Stock
Seasoning for Rice: Rich Mix Galilee by Izrael Za'atar

100% Natural Herb Seasoning for rice.

Rice is a staple of the Middle Eastern diet. Now you can have the taste of Israel — the Land of the Bible -- at home. This easy to use seasoning will flavor your rice with a little Israeli flair. It is seasoned with with vegetables, herbs and spices grown in the Arava, the Galilee, Mt. Hermon, Mt. Tabor and the Golan Heights. Herbs and spices that grow in these areas are considered to have the best aromatic flavor in the world.

Ingredients: dried vegetables, soy oil, sea salt, spices

Kosher Parve under Rabbi supervision.

No Preservatives
No Artificial Coloring
Natural Ingredients Only

The Izrael Zaatar Company is located in the Galilee of Israel. They employs over 50 special needs individuals to package their products.
4.23 oz | 120 g
Review this product
Please log into your account to Add Your Comment.