Spice of Life Mustard Seed
Mustard Seed from the Galilee. 65 grams / 2.3 ounces
Item # : FD008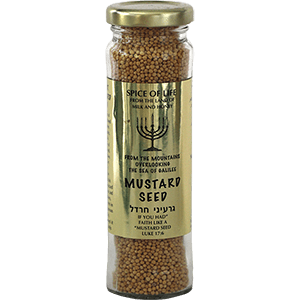 Stock Review
Ingredient:Spices Size:2.3 oz - Out Of Stock
Pure Mustard Seeds

100% Natural Mustard Seed

65 grams / 2.3 ounces

"If you had faith like a mustard seed" (Luke 17:6)


Jesus spoke of the mustard seed several times in the Gospels. Mustard is indigenous of the Holy Land; it grows wild all over the region. Through the centuries mustard has been used for laryngitis, ear and throat infections, arthritis and even in keeping away venomous snakes.

Mustard seeds can be used as a spice with sauces, meats, salad dressings, mayonnaise, cheeses, and other dairy products.
Review this product
Please log into your account to Add Your Comment.