Can Olea Essence Capernaum Extra Virgin Olive Oil
High quality Extra Virgin Olive Oil from the shore of the Sea of Galilee. Cold-pressed with a bold flavor called "Beit Sadia" oil. Three sized of tins.
Item # : FD006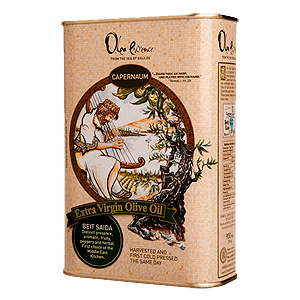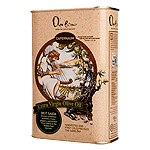 Olea Essence Capernaum Extra Virgin Olive Oil in a Decorative Tin

Olea Essence Green Seal Beit Saida olive oil means a bold, delicious flavor. This olive oil is made from green olives picked early in the harvest season with a mélange of local species of green olives. They are aromatic, fruity peppery and herbal with a distinct presence. This Galilee extra-virgin olive oil is cold-pressed and unfiltered.

Available in three sizes:
400 ml e. / 13.5 fl. oz.
900 ml e. / 30.4 fl. oz.
3000 ml e. / 101.44 fl.oz.



Olea Essence headquarters is situated in its olive oil mill at the ancient Jewish city of Kazrin. The farm's olive orchards are spread along the north shore of the Sea of Galilee in the ancient villages of Migdal, (Magdale), Tabha, Beit Saida, Capernaum, and the western slopes of the Golan Heights, from the thousands years old Kursi and Kanaf through the villages of Ramot, Givat Yoav and Eliad.
Review this product
Please log into your account to Add Your Comment.