Izrael Za'atar - The Holy Hyssop
Natural Herb Seasoning, Biblical Hyssop, Galilee Aromatic Blend. Season your food deliciously with the taste of the Bible. 100 g / 3.5 Oz
Item # : FD062H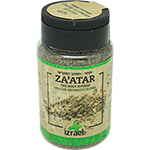 Stock Review
Ingredient:Spices Size:3.5 oz - In Stock
Biblical Hyssop Za'atar, Galilee Aromatic Blend
Za'atar is a healthy and multi-purpose spice blend enriching the flavor and aroma of many dishes. It is excellent for salads, soup, meat, fish, cheese, eggs, pizza, bread and pastries.
Besides adding a wonderful flavor to all kinds of food Zaat'ar is healthy too.
Ingredients: Hyssop, Sesame, Elm-leaved Sumach, Lemon Acid, Salt
100 g / 3.5 Oz
Review this product
Please log into your account to Add Your Comment.