Izrael Barbecue & Grill Natural Herb Seasoning "Flavors from the Holy Land"
Barbecue & Grill Natural Herb Seasoning. Barbecue and picnic like and Israeli with this delicious seasoning for meat and poultry.
Item # : FD062G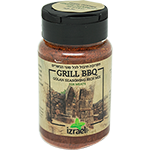 Stock Review
Ingredient:Spices Size:5 oz - In Stock
Barbecue & Grill Natural Herb Seasoning

100% Natural Herb Seasoning

Israel — the Land of the Bible was blessed with many herbs and spices. The Great Rift Valley along its Eastern Border has a special climate facilitating the Arava, the Galilee, Mt. Hermon, Mt. Tabor and the Golan Heights. Herbs and spices that grow in these areas are considered to have the best aromatic flavor in the world.

Goes wonderfully with all kinds of grilled or barbequed meat or poultery. Can also be added to sauces and marinades.

Ingredients: garlic, cumin, black pepper, sweet paprika, thyme, oregano, coriander, nutmeg, sugar, sea salt.

Kosher Parve under Rabbi supervision.

No Preservatives
No Artificial Coloring
Natural Ingredients Only

140 gr / 4.9 oz

Review this product
Please log into your account to Add Your Comment.