"BubblePom" Rimon Sparkling Pomegranate Wine
"BubblePom" Rimon Sparkling Wine. 750 ml
Item # : MS0423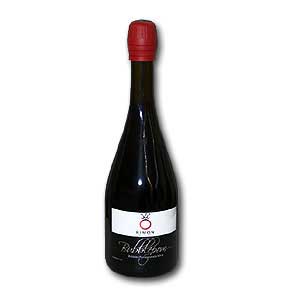 Stock Review
Flavor:Pomegranate - Out Of Stock
"BubblePom" Pomegranate Bubble Wine

100% Pomegranate sparkling wine. Pomegranate is one of the Seven Specis of Israel.
Sparkling pomegranate wine made from high quality Israeli pomegranates. Has a natural sweetness and fruity flavor. It is an elegant sparkling wine that can be served at special occasions, during meals or as a dessert.

14.8% alcohol.
750 ml. e 25.36 fl.oz.
Rimon Winery is located 3,000 feet above sea level, in the heart of a pomegranate orchard in the Upper Galilee. The winery uses traditional winemaking techniques and a specially cultivated variety of the finest fruit.
"Rimon" is the Hebrew word for "Pomegranate" - a symbol of royalty, prosperity and beauty. Many religious paintings depict the Virgin Mary or Baby Jesus holding a pomegranate as a symbol of the new life offered to humanity.

Pomegranates are a "Super Food". They contain A, B and C vitamins, iron, calcium and other essential minerals. They are rich in antioxidants which are beneficial for neutralizing free radicals three times more effectively than red wine.
Review this product
Please log into your account to Add Your Comment.