Rimon Dry Pomegranate Wine
Rimon Dry Pomegranate Wine . 500 ml, 16.91 fl.oz.
Item # : MS0422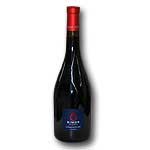 Dry Pomegranate Wine

100% Dry Pomegranate Wine. Made using traditional dry wine producing methods.
Pomegranate is one of the Seven Species of Israel.
The fruit for this wine is harvested at the peak of ripeness, crushed for its sweet juices, fermented at low temperatures to preserve the fruit flavors, and then aged in French oak barrels for twelve months.

It is an elegant wine with a beautiful deep reddish-purple color and a unique bouquet of rich pomegranate and floral aromas. It has flavors of cherries with a faint hint of black peppers and a well-balanced, soft finish.

It pairs well with Italian cuisine and other full flavored foods.

13.2% Alcohol
No added sugar
Kosher
Best served at a room temperature of 64-68° F.

500 ml. e. 16.91 fl.oz.
Rimon Winery is located 3,000 feet above sea level, in the heart of a pomegranate orchard in the Upper Galilee. The winery uses traditional winemaking techniques and a specially cultivated variety of the finest fruit.
"Rimon" is the Hebrew word for "Pomegranate" - a symbol of royalty, prosperity and beauty. Many religious paintings depict the Virgin Mary or Baby Jesus holding a pomegranate as a symbol of the new life offered to humanity.

Pomegranates are a "Super Food". They contain A, B and C vitamins, iron, calcium and other essential minerals. They are rich in antioxidants which are beneficial for neutralizing free radicals three times more effectively than red wine.
Review this product
Please log into your account to Add Your Comment.