Wissotzky Fruit Galore Tea
Wissotzky Fruit Galore Tea. Fruit & Herbal Flavors. 25 tea bags.
Item # : BV013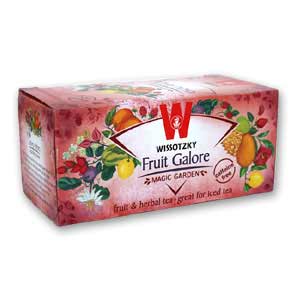 Stock Review
Flavor:Fruit Galore - In Stock
Wissotzky Fruit Galore Tea

Wissotzky's "Magic Garden" fruit infusion. A tropical blend of fruit and herbs. Contains: wild berries, papaya, passion fruit, pineapple, Mango, blackberries and passion flowers.

Caffeine Free.

Excellent for making Ice Tea.


20 Tea Bags.
1.5 gr e. 0.05 oz. each.

Wissotzky, The leading producer and exporter of tea in Israel, was founded in 1849 in Russia, and established its first tea production plant in Israel in 1936. Since that time the company cultivates uncompromising devotion to producing the highest quality tea. Wissotzky supplies tea to the IDF, the security forces, El Al airlines and other institutional customers throughout Israel.
Review this product
Please log into your account to Add Your Comment.