Instant Coffee. Decaffeinated.
Cafe Hag. Decaffeinated Instant Coffee.
Item # : BV002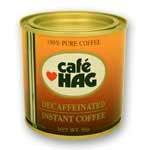 Stock Review
Hag Coffee

Decaffeinated Instant Coffee. Israeli decaf with a full bodied, rich flavor which is achieved through a precise roasting process using only selected coffee beans.
Decaffeinated through a novel and unique process based on water and carbon dioxide.

Kosher Parve under the supervision of Safed Rabbinate.

50 g. e. 1.75 oz.
Review this product
Please log into your account to Add Your Comment.