Izrael Green Tea from the Galilee, 20 bags
Soothing green tea herbal infusion is of Natural Ingredients Only: Green tea, Peppermint, Lemon Grass, Spearmint and Rose Leaves. No Preservatives or Artificial Coloring. 20 bags.
Item # : BV011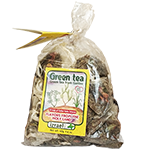 Stock Review
Flavor:Green Tea - In Stock
Green Tea from the Galilee, 20 bags

Wonderfully soothing herbal tea made with ingredients from the Galilee of Israel. Take a few minutes and relax and enjoy this delicious drink. Feel the warmth of the cup and cherish the moment – let your troubles disappear.

Packaged in a hand-tied organza bag that contains 20 mini bags of herb mix. The total weight is approximately 40 g / 1.4 oz. Each bag is packed in a cellophane bag with an explanation card.

Delicious in both hot and iced preparations.

To prepare this delicious beverage hot add the mini bag directly to boiling water. Leave to steep for 3-5 minutes. To sweeten, add brown sugar or honey to taste.

To make a refreshing cold beverage, prepare it as above, but with only a small amount of boiling water, and then pour into a jug or bottle, add cold water and cool in the refrigerator.

The best time to drink this is after a meal, since it calms the digestive system significantly. It is also good to drink it when you are suffering from the common cold.

Ingredients: Green tea, Nana (Mint), Lemon Grass, Spearmint and Rose Leaves.
Kosher – under the supervision of Rabbi Mordechai Zamir of the Emek Israel Rabbinate.
Review this product
Please log into your account to Add Your Comment.