Izrael Golan Blend Herbal Infusion Tea, 20 bags
A delicious herbal infusion is made with Natural Ingredients Only: Mint, Sweet Marjoram, Lemon Grass, White Leaved Savor, Salvia (Maramia), and Rose Leaves. No Preservatives or Artificial Coloring. 20 hand-tied bags
Item # : BV010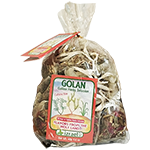 Stock Review
Golan Blend Herbal Infusion Tea, 20 bags

Packaged in an organza bag that contains 20 mini bags of herb mix. The total weight is approximately 40 g / 1.4 oz. Each bag is packed in a cellophane bag with an explanation card.

A delicious tea that delivers the taste of northern Israel! Feel the warmth of the cup and cherish the moment – let your troubles disappear.

Wonderful as a classic hot tea or as a refreshing iced tea.

To prepare this delicious beverage add the mini bag directly to boiling water. Leave to steep for 3-5 minutes. To sweeten, add brown sugar or honey to taste. Take a few minutes and relax and enjoy this delicious drink.

To make a refreshing cold beverage, prepare it as above, but with only a small amount of boiling water, and then pour into a jug or bottle, add cold water and cool in the refrigerator.

The best time to drink this is after a meal, since it calms the digestive system significantly.It is also good to drink it when you are suffering from the common cold.

Ingredients: Mint, Sweet Marjoram, Lemon Grass, White Leaved Savor, Salvia (Maramia), Rose Leaves.

Kosher – under the supervision of Rabbi Mordechai Zamir of the Emek Israel Rabbinate.
Review this product
Please log into your account to Add Your Comment.