Jerusalem Passport Bag.
Jerusalem Passport Bag.The front of the bag has two zippers decorated with a fish .
Item # : TX029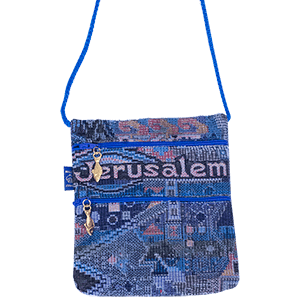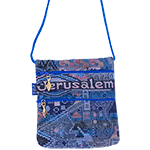 Stock Review
Color Code:D17 Color:Blue Pattern:Druze - Out Of Stock
Jerusalem Passport Bag.
Jerusalem passport bag is handcrafted by Druze in Israel . Padded with an ethnic fabric.
It has a double zipper with a fish decoration & is lined with a string strap.
It's machine washable & made from a cotton blend material.
Dimensions : The bag measures : 7 X 6 Inches / 18 X 15 cm
The Strap hangs approximately : 20 Inches / 50 cm
The Druze are a minor group who recite peacefully in Israel & are well known for their hospitality.
Their villages are located in the Carmel and Golan regions.
They wear their traditional clothes, tell stories about their Druze heritage & decorate their houses with an authentic Druze decor.
The Druze village of Isfiya is located on the top of the Carmel Mountain with a panoramic view of the surrounding green hills.
Isfiya was established during the 17th & 18th century by Druze from the mountains of Lebanon.
They were later joined by several Egyptian families, in 2003 the village was merged with neighboring Druze village of Daliat El Carmel. The two unified villages are known today as Ir Carmel.
Daliyat El Carmel is a colorful village that offers wonderful hospitality with a smile & is also very interesting. Daliyat El Carmel was founded in the 17th century by Druze from Mt. Lebanon.
Sir Laurence Oliphant, an Englishman who loved the Holy Land & moved here in 1880 to help the Jews during the period of the first Aliyah wave of immigration. Today his house serves as a military memorial to the village residents who served in the Israel Defense Forces & gave their lives for their country.
Anter has a unique collection of tablecloths, runners, bags, pillows & fashion wear . The designs , colors & styles are inspired by Druze's in Israel.
This is an unusual cotton blend woven bag that is durable & machine washable.
Review this product
Please log into your account to Add Your Comment.