Dead Sea Love Dream Home SPA.
Hydrating Body Cream by Ein Gedi. Suitable for all skin types.
Item # : CS3001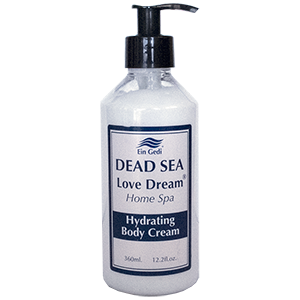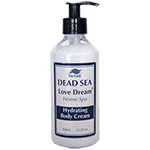 Stock Review
Formula:All Skin Types - Out Of Stock
Dead Sea Love Dream Home SPA.
Ein Gedi Dead Sea lotion for the body nourishes & hydrates your skin with its unique formula containing Dead Sea minerals .


It will absorb quickly into your skin leaving a smooth and refreshed feeling.

Your skin will radiate a younger, fresh newly-found vitality!
Suitable for all skin types. Free of Parabens, SLS and mineral oils.
Available :
Large - 250 ml e 8.5 fl.oz.
Application: Massage a generous amount over your entire body after a bath or a shower.

For centuries, the Dead Sea has been a prime destination to renew and extend life.
Cleopatra was known to nurture her beauty there from time to time, and now you can do the same.
Allow Ein Gedi to present you with the rejuvenating magic of the Dead Sea with its Dead Sea Spa products.
Ein Gedi Dead Sea Products is known for the most luxurious Dead Sea Beauty Products available in the Dead Sea Spa industry.
Rejuvenate your skin to your comfort at home with Ein Gedi Dead Sea skin care products, the best, most concentrated combination of Dead Sea Products in the market today!
Ein Gedi Dead Sea Beauty Products uses the finest ingredients to compliment Dead Sea Minerals, Mud and Salt, so your skin receives the maximum benefits from the Dead Sea.
Dead Sea Spa products are renowned for their properties, which help hydrate and nourish facial skin, making you look younger and feel amazing.
Creating your own Dead Sea skin care routine has never been easier.
Treat yourself with Dead Sea Spa products to create a Dead Sea skin care regime that will allow you to have soft and younger looking skin. In fact, our Dead Sea Spa products have earned a special place on the beauty shelves of a lot of people.
In the past, Dead Sea skin care routines have been a well guarded secret, but now it is available to all who want to take advantage of those amazing dead sea products and enjoy our amazing dead sea salt.
Review this product
Please log into your account to Add Your Comment.