Duo Pack Mud Mask & Face Cleanser. Save 10%!
Ein Gedi Duo Pack Mud Mask & Face Cleanser. Suitable for All Skin Types. 100 ml e 3.4 fl.oz
Item # : CS3014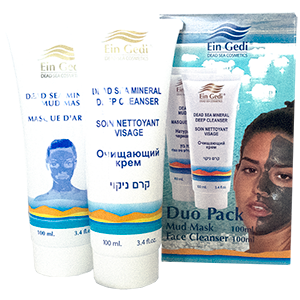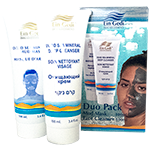 Ein Gedi Duo Pack Mud Mask & Face Cleanser. The Dead Sea, one of the most nutrient-rich sources on Earth, has been used for centuries to rejuvenate and purity. And now, we've combined these renewing powers into our most complete skin treatment . Mud Mask : Apply this luxurious mud mask ,as it gently dries on your face, it draws out excess oils, impurities & grime from your skin. At the same time your skin is infused with ancient Dead Sea minerals and vitamin E. This mask leaves your face clean, fresh and blemish free. Face Cleanser : Deep cleansing is the key to healthy and well cared facial skin. This formula reduces oiliness and helps balance moisture for a radiant finish. Application : Mud Mask - Apply to cleansed face and neck. Avoid eye and lip areas. Leave on for 10-15 minutes (first time users 5-10 minutes). Rinse thoroughly with water and moisturize.
For oily skin – use twice a week.
For normal to dry skin – use once a week.
Face Cleanser - Gently massage into wet skin with fingertips, rinse well with fresh water.
Review this product
Please log into your account to Add Your Comment.