Duo Pack Hand & Foot Cream. Save 10%!
Ein Gedi Duo Pack Hand & Foot Cream. Suitable for All Skin Types. 100 ml e 3.4 fl.oz
Item # : CS3015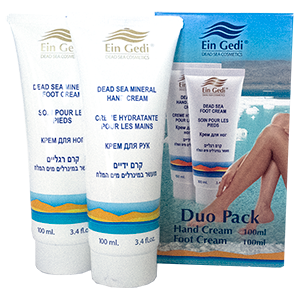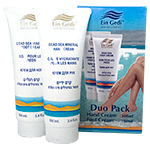 Stock Review
Formula:All Skin Types - Out Of Stock
Ein Gedi Duo Pack Hand & Foot Cream. The Dead Sea, one of the most nutrient-rich sources on Earth, has been used for centuries to rejuvenate and purity.
Keep your hands and foot in top condition with our Dead Sea beauty ranges.
Dead Sea beauty products make a unique and thoughtful gift.
Packed with moisturizing and healing minerals and salts from the Dead Sea region of Israel.
The ideal luxury gift for someone who is always on the go, our Dead Sea hand and foot care ranges have pride of place in elegant bathrooms, kitchen, bedrooms around the world.
Review this product
Please log into your account to Add Your Comment.