Ein Gedi Dead Sea Body Cream.
Ein Gedi Body Cream. Suitable for all skin types. 100 ml. e 3.4 fl.oz.
Item # : CS3009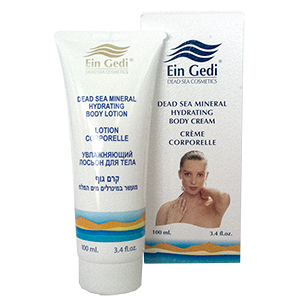 Ein Gedi Dead Sea Body Cream. The nourishing & hydrating body cream, absorbs easily and leaves your skin silky smooth and wonderfully supple. The rich blend of Dead Sea minerals helps detoxify the skin and maintain its moisture balance, rewarding you with a sensuous feeling and radiant body skin you would want to show off. Make yourself a PROMISE – Practice a regular beauty routine. Application : Brush your body care skin using a soft bristled body brush to get rid of dead skin cells, and always apply body cream after having a bath. Modifying your daily beauty routine a tiny bit, will help you add flawless skin to the list of your best qualities
Review this product
Please log into your account to Add Your Comment.