Edom Retinol Time Control Restoring Night Cream
Anti Aging • Firming • Restoring. Based on encapsulated retinol (Cellucap R™), this unique intense night treatment is an effective concentrated age-defying cream. Size: 1.7 fl oz | 50 ml
Item # : CS2600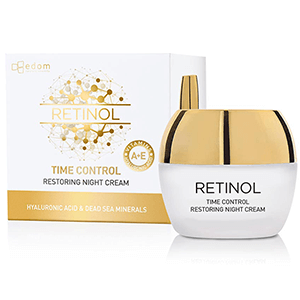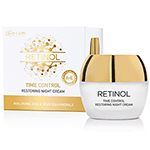 Stock Review
Formula:Normal Size:50 ml / 1.7 fl.oz. - In Stock
Edom Retinol Time Control Restoring Night Cream

Anti Aging • Firming • Restoring
Based on encapsulated retinol (Cellucap R™), this unique intense night treatment is an effective concentrated age-defying cream.
Developed by extensive research, Cellucap R™ is the next generation of Retinol, being encapsulated in microspheres that help to protect its stability and effectiveness until applied to the skin. Working in synergy with Dead Sea Minerals and Hyaluronic Acid, the innovative skin-supporting blend, helps to reduce wrinkles and revitalize skin resilience while creating a rejuvenated appearance and a luminous youthful glow!

Recommended to be used in conjunction with Retinol Time Control Restoring Face Serum and Retinol Time Control Restoring Day Cream

Size: 1.7 fl oz | 50 ml
Review this product
Please log into your account to Add Your Comment.