Edom Mineral Black Dead Sea Mud
Edom Mineral Black Dead SeaMud. Dead Sea Spa Treatment for All Skin Types. 600 g / 21.1 oz
Item # : CS2020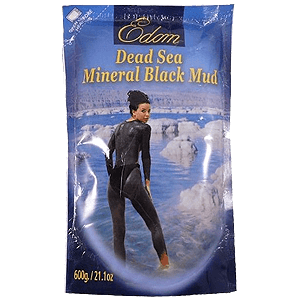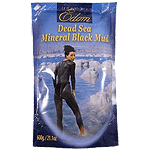 Stock Review
Formula:All Skin Types - Out Of Stock

A natural deep cleanser, helps maintain healthy looking skin and body, revitalizing its appearance, relaxing the skin and restoring its elasticity. Helps reducing discomfort in muscles and joints. Soothes and softens, leaves skin and body feeling fresher and smoother. Recommended also as a hair mask to clean the scalp of excess oils and dandruff.

Suitable for all skin types.

600 gr e 21.1 oz

Application: Body Mask - Apply a thick layer of mud to your body or to any specific area that requires special care. Leave on for 15-20 minutes. Rinse off with warm water.

Heated Mud - It is recommended to heat the pack before applying the mud. Open the pack where indicated and heat in a saucepan with warm water or in a microwave for 1-2 minutes. Make sure that the mud is not too hot before applying onto skin.

Hair Mask - Massage a small amount of Black Mud on your scalp and hair for 2-3 minutes. Leave on for 5-10 minutes. rinse thoroughly. not for facial treatment. Do not apply to broken skin. For external use only.


Edom Dead Sea is a rejuvenating and revitalizing skin care products range rich in minerals from the Dead Sea blended with vitamins and oils. Edom Dead Sea products are manufactured in accordance to EEC and FDA regulations. The products are PH neutral and improve vitality and overall appearance of the skin. Edom products are suitable for individual use as well as professional use in spas and beauty salons.
Review this product
Please log into your account to Add Your Comment.